© Good Hope GSD Club 2014
National Breed Show 2014
Ten of our members travelled the 1892km from Cape Town to
Pretoria, accompanied by 18 of our club dogs, to participate
in the SA Sieger Show at the begninning of May 2014.
In true Good Hope spirit, despite many flat tyres,

broken radiators, injuries and accommodation

hassles, to mention just a few, we collected 5

VA(SA) and 5 V(NBS) titles, best Kennel Group for

Von Ronneburg, 2nd & 3rd Best SA Bred Males in
SA as well as 2 Protection Work awards.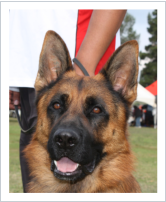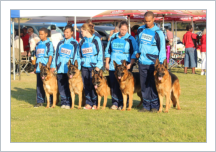 Club Survey 30.03.14
Congratulations to all our club dogs on

passing their surveys:
Rosemary with Dante (for life)

Sonia with Takoda (for life)

Gill with Nicky (for life)

Brenford with Jenna (for life)

Johan with Yoko (for life)

Jane with Ginny (first)

Brenford with Lynx (first)

Brenford with Akira (first)

Made with Xara















National IPO Trial 2014
Good Hope is SUPER proud of Jean Luc Stapelberg and Figo on their achievements at

the IPO Nationals held from the 13th-15th June 2014. The weather was dreadful and the
competition was stiff but you still managed a 93 for protection work - well done!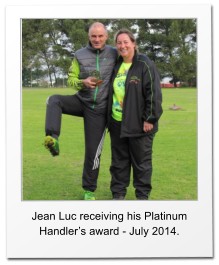 Upcoming events:
•
Club endurance - 11th October 2014
•
Club BH - 11th October 2014
•
Club survey - 17th October 2014
•
Good Hope Show - 18th October 2014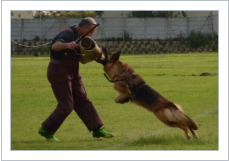 "Genius is one percent inspiration,
ninety-nine percent perspiration"




Vita Nova Show 21.09.14
Hearty congrats to all our Good Hopers on your achievements at the Vita Nova Show on
Sunday. Thanks to everyone for your wonderful sportmanship and team work.
A special "Well done" to Jonathan & Merlin, Romeo & Major, Lize & Bayne and Roy, Thea

& Taifun - your first show is under the belt!! Results to follow......